Joseph S. Belt, III
As Managing Partner, Joe Belt, controls the daily operations and long-term strategic planning for the firm. Joe assists with recruitment, retention and management of company personnel and is responsible for client interaction, marketing, sales and business development.
As a registered Maryland Home Improvement Contractor, Joe is a construction expert and has over 45 years of residential construction experience encompassing Modular Home Construction, Residential Remodels and Tenant Fit-Outs.  This experience includes construction management, estimating, and performing various trades, including carpentry and framing, drywall, flooring, siding, windows, exteriors, and tile work for new construction, renovations and modular construction.                  
Joe takes tremendous pride in helping clients attain the homes, renovations and modular buildings of their dreams.  He holds a B.A. degree in Secondary Education and a degree in Vocational Carpentry from the University of Maryland and has completed courses in Management and Supervision at Bowie State University in Maryland.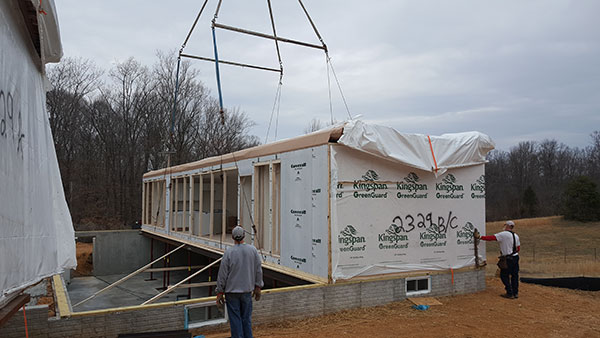 Modular Home Section on Foundation
Todd M. Hirsch
As a Partner and CFO, Todd Hirsch has more than 25 years of Operations Management, Telecommunications and Construction experience.  Todd handles accounting, forecasting, purchasing and general oversight of financial operations for Belt Built and its associated joint ventures.   He directly oversees the performance of personnel in the administrative group; participates in the weekly group project management meetings for construction projects; attends progress meetings of group projects.  Todd approves all budget expenditures; reviews and approves all subcontractor and vendor payments for the company; and monitors the performance, quality, and financial requirements of all projects. 

Todd is responsible for all back-office operations, which includes accounting, forecasting, purchasing and general oversight of financial operations, as well as being responsible for primary due diligence, technical assessment and financial valuation of potential investments and acquisitions. 
As head of operations at the Texas location, Todd has been expanding Belt Built into new arenas, including NAVFAC at NAS JRB Ft. Worth and Joint Base San Antonio.   Todd holds a M.S. degree in Business Administration and a Master's in Business Administration from the University of Tulsa. His business operations experience and financial management has been a tremendous asset to Belt Built and its continued growth.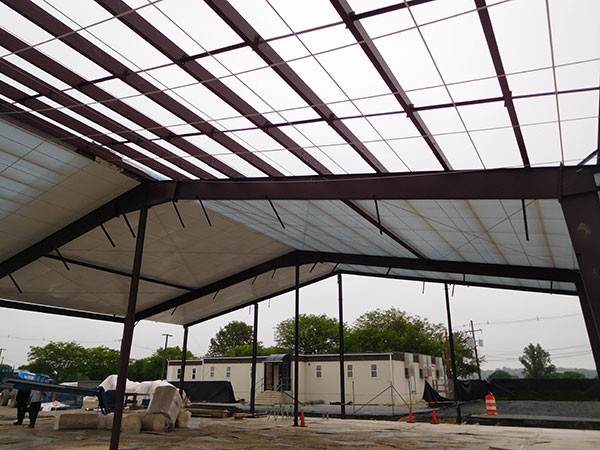 DLA Bldg. 911 Structural Erection
Morris L. Lewis
As a Partner and VP of Business Development, Morris ("Mo") Lewis has more than 25 years of construction experience, encompassing institutional, federal, commercial and residential construction. He directly manages business development for Belt Built and its associated joint ventures and interfaces with Federal clients, such as, Smithsonian Institution, the General Services Administration (GSA), Federal Bureau of Investigation (FBI), Naval Facilities Engineering Command (NAVFAC), U.S. Army Corps of Engineers (USACE) and the Department of Homeland Security.
Over the years, Mo's companies have provided turnkey construction service solutions for federal government, commercial, industrial, institutional, retail, and residential clients. His companies have performed tenant improvements, deferred maintenance, repairs, and replacements, for a host of clients in Maryland, Virginia, the District of Columbia, Delaware, Pennsylvania, Georgia, Florida, and Texas. His expertise is providing design build solutions, project management, supervision, safety and quality control management and scheduling of construction related projects. He holds a B.A. degree in British Literature from the University of Maryland. His marketing and relationship building skills have contributed significantly to the on-going expansion of the company.
Robert L. Sudol
As VP of Operations, Robert ("Bob") Sudol has more than 30 years of construction management experience.  Bob manages the daily operations for Belt Built construction and directly oversees project management and field personnel.  Bob conducts  the weekly group project management meetings; attends on-site progress meetings of group projects and assists with client liaison.   Bob's responsibilities include approval of divisional project related budget expenditures, review and approval of  subcontractor and vendor contracts and providing corrective action for company operational issues.
Bob's areas of expertise include: Strategic Planning, Operations & Project Management; Financial Analysis; Business Development; Budget Forecasting & Planning; Cost/Benefit Analysis; Cost Reduction; Expense Control; QA/QC; Strategic Sourcing; Contract Negotiations; Vendor & Client Relations; Alliance Building & Issue Resolution; Logistics Outsourcing & Procurement; Change & Risk Management; Process Improvement; Reporting & Scheduling; Recruiting; and Team Leadership & Motivation.

With a B.S. in Civil Engineering from Youngstown State University, Bob's operation's expertise, partnered with his engineering background has provided a solid foundation for managing the broad scope of federal and commercial construction projects.